Campervan Hire for everyone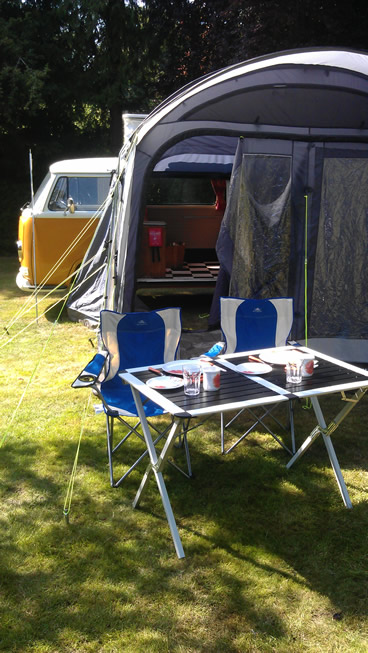 What's the Cost
The table below details the prices for renting one of our campervans.
We don't distinguish cost wise between the vans to make it easier for you to choose.
*Prices may vary if return or pickup is on a bank holiday
Pickup is normally after 2:30pm with return by midday
2019

Between
Weekly
Weekend
Mid-week
Friday to Friday
Friday to Monday
Monday to Friday
February 8th
April 25th
£570
£380
£400
April 26th
June 13th
£670
£410
£435
June 14th
July 11th
£725
£435
£455
July 12th
September 5th
£780
£475
£500
September 6th
September 26th
£725
£445
£465
September 27th
November 7th
£625
£400
£435
Buying for a friend?
Why not purchase one of our gift vouchers?
Included in the price
Insurance for the first named driver (subject to terms and conditions)
A Full tank of petrol, but we ask that you also return the van with the same amount of petrol
A Bluetooth enabled CD player with iPod connection and the ability to play media from a USB stick
By request in advance, a drive away awning that can be used as an extra room or bedroom (Basically a large 2 person tent that can be attached to the side of the campervan)
a roll up table and chairs
A built in 2 ring gas cooker with grill
Cutlery and Crockery (okay Melamine plates and cups)
Frying pan, 2 saucepans, cooking utensils
Discounted members rates at the Camping and Caravanning sites across the UK
Full RAC cover which we hope you won't need to use
Electric hook ups so you can use your hairdryer (dependent on camp site facilities)
Most important of all a whistling kettle to make that all important cup of tea when you get there.